Mouth Guards in Kew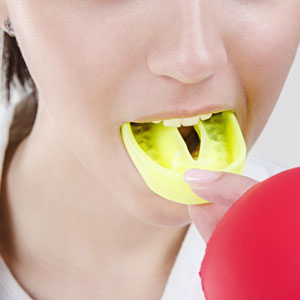 Your smile is one of your best assets, so you want to protect it, particularly if you've invested in dental work or restorations. At our friendly and modern dental practice, our experienced dentists are passionate about preserving the smiles of all of our patients. That's why we offer durable, custom-fitted mouth guards.
While store-bought, boil-and-bite guards are inexpensive, their primary disadvantage is they don't fit properly.
Custom-fitted mouth guards also offer better protection, are more comfortable and are less cumbersome.
Mouth guards can protect against the following:
Lip lacerations
Chipped or broken teeth
Tooth loss
Nerve damage to a tooth
Protection Against Sports Trauma
If your children play contact sports or do gymnastics, one of the best ways you can protect them is with a customised mouth guard. In addition to offering mouth protection, mouth guards reduce the impact of blows to the jaw; as a result, they can help to prevent concussions. We can even make mouth guards in the colours of your child's sports team!
Night Guards for Grinding
Do you wake up with headaches, muscle pain or a sore jaw? If yes, you likely clench or grind your teeth, which is also known as bruxism. Teeth grinding also can wear down your bite and break dental restorations. We offer a custom occlusal splint to position the jaw to promote muscle relaxation. Reducing the stress in your jaw provides a sense of relief.
What Does the Process of Getting a Mouth Guard Involve?
The first step is taking an impression of your teeth. Next, we will make a model of your mouth and use it to fabricate the custom guard. The process is fairly quick and simple. It just takes a few days until your customised mouth guard is ready.
Get Started Today!
Protect your teeth from damage with a custom-fitted mouth guard at Willsmere Dental. Our mouth guards offer comfortable and superior protection. Contact our Kew dental practice today to book an appointment!
Contact Us

Mouth Guards Kew, Kew East, Hawthorn VIC | (03) 9853 1800