Dermal Fillers in Kew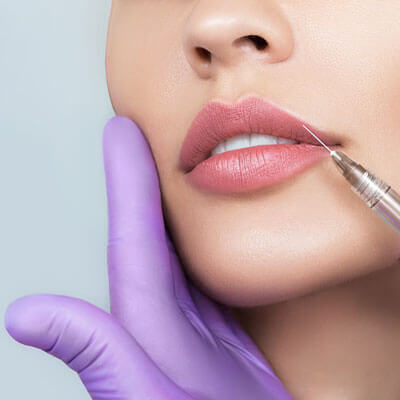 When it comes to dento-facial aesthetics, dermal fillers provide both immediate and gradual results. Unlike anti-wrinkle injections which reduce muscle contraction, dermal fillers work to fill in the void or density created by tissue damage.
Better Facial Definition
Dermal fillers work well in areas of tissue deterioration, such as the lips, nasolabial fold (lines on either side of the nose), along with the cheekbones, between the eyebrows and even under the eyes. In some cases, fillers are paired with anti-wrinkle injections for improved texture and extended results.
Who Is a Candidate?
Dermal fillers are best for intact skin that's free of lesions or ulcerations. Since they naturally attract moisture and fluid uptake, fillers can also be used to help people with dry, thin lips.
What to Expect
Typical filler treatments tend to work immediately or within the first two weeks after an application. Depending on the individual, average results last about six months or up to a year in some patients. Since fillers are temporary and dissolvable, they provide consistent benefits without the need for cosmetic surgery.
How to Choose the Best Provider
Selecting to work with your dentist provides a safe and health-based approach to treating facial tissue damage. As an oral health professional, dentists have a detailed understanding of all the tissues throughout the head and neck, including muscles and nerve anatomy.
Being that they are highly skilled to apply gentle injections in the mouth and face each day of their practicing career, dentists are one of the best qualified providers to offer derma-facial aesthetic injectables, especially when used for functional or therapeutic cases.
Find Out If You Qualify
Easily book your dermal fillers and injectables treatments to pair with your six-monthly checkups. Reserve a consultation today to find out if this service can provide the aesthetic results you're looking for.
Contact Us

Dermal Fillers Kew, Kew East, Hawthorn VIC | (03) 9853 1800