Dentures in Kew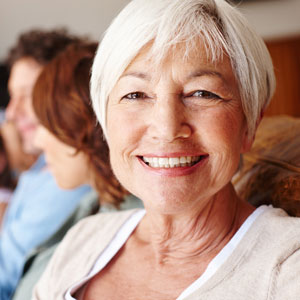 We're your dentist in Kew at all stages of life, no matter what your age may be. Over the years, you may experience some form of damage to your teeth. Whether that is due to decay, trauma or other reasons isn't for us to judge. It's simply our aim to make sure that you can enjoy showing off a smile that you're proud of.
One of the many treatments available at our family practice is dentures. You've likely heard about dentures as being a common form of tooth replacement. But the dentures available today are nothing like the old, uncomfortable, unnatural-looking ones that may have been common decades ago!
What Are Dentures?
Dentures are a set of false teeth designed to replace teeth that have gone missing. They are available in two forms: full and partial. Full dentures are for people who have no teeth left in their mouth. They cover both the lower and upper arches in the mouth.
Partial dentures are appropriate for people who still have some viable teeth left in their mouth. If you have good teeth that remain, you don't want to lose them. A partial denture will fit smoothly around these existing teeth and can cover the upper arch, lower arch or both, as needed.
The Alternatives to Dentures
If you are missing teeth, you likely want to explore all possible options to fill the gaps in your smile. After examining you and determining your needs, our experienced dentists will be able to make all recommendations on your treatment, including going over our available solutions.
In addition to dentures, we provide state-of-the-art dental implants. Dental implants are the new gold standard in replacing your teeth. They mimic a natural tooth, with a look and feel that you won't be able to tell apart from any of your existing teeth. You can also choose to have a dental bridge or denture attached to your implants as will suit your needs.
Having a dental bridge alone is also an alternative to getting dentures. A bridge involves a row of dental crowns that are attached to each other. It requires that you have teeth on either side of the gap where a tooth has gone missing. The bridge is affixed to these teeth with a false tooth filling the open space.
FAQs
How long will it take to get used to wearing dentures?
If you have never worn dentures before, there may be a short adjustment period involved, which is to be expected. Once you're used to them, you'll find them comfortable and love that they give you the ability to smile with confidence. We'll let you know what to expect at your appointment, but generally, you'll be used to your dentures within a couple of weeks.
If you have any soreness from your dentures, you can use a saline rinse to promote healing and relieve discomfort. You'll receive specific guidelines from us to follow.
Will you check the fit of my dentures?
Yes! We always do follow-ups for our patients that get dentures so we can examine the fit of your denture, how it sits on your gums and even the appearance of the denture. If any problems come up, be sure to call us and we'll get you in straightaway.
How do you take care of dentures?
Dentures are extremely easy to care for. At night, you can soak them in a denture cleaning solution while you sleep. You'll be able to pop them right in the next day. We recommend you continue brushing your gums when you remove your dentures to keep them healthy.
Do dentures require adjustments?
Yes. Over time, the gum and bone tissue material in your jaw will shrink. Eventually, you may need to have your dentures relined. If needed, we can also fit you for a replacement.

Dentures Kew, Kew East, Hawthorn VIC | (03) 9853 1800