General Dentistry in Kew
From minimally-invasive composite fillings to customized porcelain crowns, Willsmere Dental implements the latest technological procedures to provide high-quality, efficient treatments that we would expect for our own oral health needs.
General dentistry addresses both preventive and restorative care for your family's smile needs. It encompasses a wide range of services including: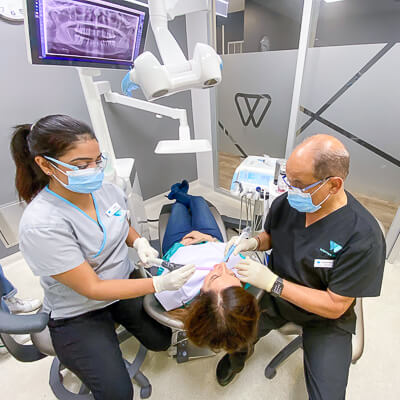 Oral Hygiene Instruction
Proper oral hygiene is the most effective means of preventing dental problems such as cavities and gum disease.
Read more about Oral Hygiene Instruction »
Checkup and Clean
Regular preventative dental care keeps your smile healthy. By statistically lowering your risk of tooth decay and gum disease, you can enjoy both healthier teeth and improved overall wellness.
Root Canal
A root canal removes diseased nerve tissues inside of a tooth before the tooth is no longer functional.
Read more about Root Canal Treatment »
Wisdom Teeth Removal
Wisdom teeth sometimes cause pain, infection, or crowding of your other teeth. A simple exam is all that you need to find out whether or not your wisdom teeth need to be removed.
Dental Fillings
A dental filling is used to restore the portion of a tooth that has been damaged by decay. Fillings return both form and function to the afflicted tooth.
TMJ Treatment
Temporomandibular joint disorder can cause headaches, muscle pain and complications opening and closing your jaw. Thankfully we have non-surgical therapies that can help.
Read more about TMJ/Teeth Grinding »
EMS AIRFLOW® and Guided Biofilm Therapy Treatment
AIRFLOW is an innovative, non-contact type of dental maintenance and prevention. It releases a controlled stream of air, warm water and very fine sweet powder onto the tooth. It also focuses on tough-to-reach areas to dislodge and remove food particles, plaque, discolouration and stains.
Request An Appointment
Ready to unlock the smile of your dreams? Contact our practice today to get started. We look forward to helping you achieve your goals!
Contact Us

General Dentist Kew, Kew East, Hawthorn VIC | (03) 9853 1800